There's something special about the way women support each other when they hear of someone struggling.
A new baby, an illness, a death in the family... the meals and baking and offers of help roll in.
Not always, of course.
Often we struggle alone,
feeling forgotten, overlooked.
But if a sister hears of our plight, she will usually try to help.
That's what Sophie over at SophieSlim has been doing... trying to help.
She's formed a Sisterhood of women who have sent love to complete strangers; women who have been struggling alone until a sister heard of their plight and nominated them for a Love Bomb.
The
first wave of Love Bombs
hit women all over the country, accompanied by this note...
Now
Sophie's at it again
, moved by emails about the plight of sisters around the country.
I emailed her with a couple of nominations of my own.
And then I thought,
Hey, contributing to the Love bomb myself is not enough. I need to put it out there to my Blog Sisters if we're going to help all these women.
So my sisters, would you help
The Sisterhood
help some struggling sisters?
Would you to join us in Love Bombing our as-yet-unknown sisters?
Let them know they are not alone in their struggles, not forgotten?
(Whether its parenting alone, nursing a terminally ill child, recovering from multiple miscarriages, a burned down house or the death of a child....)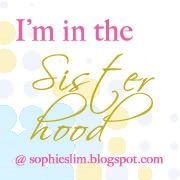 About the Sisterhood:
The Details:
Here's what to do (
from Sophie's post
)
Sophie's email address is sophieslim@moo2.co.nz
Please email Sophie if you would like to give to any of these ladies
Once emailed she can supply you with either her postal address or bank details
All postage to get your gifts to Sophie is at your own cost
All money donated goes 100% to the recipient in either vouchers or put towards something big we think they might like
If you are stuck for ideas of gifts to send Sophie can always give you a few hints.
You have TWO WEEKS from today to get anything to Sophie. That's the 18th of July.
You can nomiate more ladies to be recipients and depending on donations we would love to include them. The more the merrier (you must "be a sister" to nominate (you have made a donation previously or will be making one in this love bomb))
Simply email Sophie to nominate anyone you think is deserving of a few treats.
Head over to The Sisterhood Facebook Page - Sophie will be sharing photos and updates as things arrive.
[I really hope you'll join us]